Infant Care Peoria IL
When you're a new parent, you want to give all your time to your child. Unfortunately, work, errands, chores, and daily life makes this impossible. That's why 1, 2, 3 You 'N Me Preschool offers the best start for your infants with expert Infant Care Peoria IL parents can rely on.
Infant Care Peoria IL Can Trust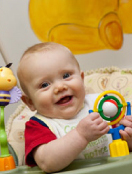 We believe in giving children the best start in life, even when children are as young as 6 weeks old. Our Infant Care is split between three classrooms, allowing babies to learn and grow with other babies their own age. Our rooms include:
Sweetheart Room I for walking babies,
Sweetheart Room II for sitting and crawling babies,
And Sweetheart Room III for non-crawling newborn babies.
Each room has a staff of qualified professionals who understand that infants thrive in warm and responsive early care. At 1, 2, 3 You 'N Me, your baby will receive constant interaction and care at the same schedule your child is on at home. Diapering, eating, and sleeping are all handled in a relaxed and individual manner.
Our program includes playing, singing, talking, and sensory skills. Your child can safely practice walking, crawling, or pulling up in our environment. We offer sign language to our older babies and we follow the "Your Baby Can Read" program designed by Dr. Richard Titler.
Our Qualified Child Development Professionals
Our Infant Care programs are staffed by only the best child development professionals in the area. These professionals are handpicked by a strict list of requirements. We ensure that:
Each teacher enters with an Associate Degree, BA in Child Development, or BA in Elementary. They are required to have experience in this area as well.
Each staff member is on a 6-month probationary period. During this time they are being evaluated on their ability to follow the philosophy of our center and the policies on which our program is based.
Staff members attend 15 hours of outside education per year to further their knowledge in early childhood development.
If this sounds like the right Infant Care facility for you and your child, then call us today!
Contact Us Today
If you're searching for the best Infant Care Peoria IL can provide, then contact 1, 2, 3 You 'N Me today! You can reach us at (309) 692-3470.